Dot Compliance Kit
The FMCSA will subject every newly licensed carrier to a New Entrant Audit within the first 12 months of operation
The DOT Is Coming. New Entrant Audits Are A Reality. Be Prepared For Your New Entrant Audit With Our FMCSA Compliance Kit!
As part of its "New Entrant Safety Assurance Program" the FMCSA will subject every newly licensed carrier to a New Entrant Safety Audit within the first 12 months of operation. Do not be caught unprepared for something you know is coming. The FMCSA will be looking to confirm that you are operating safely and maintaining up-to-date records.
A complete guide to CSA, DOT audits and roadside inspections - The motor carrier's survival guide!
Everything You Need to Get Compliant - Instant Download
Editable document with simple to use forms. We provide everything you need to be fully compliant and ready for the FMCSA New Entrant Audit. With plain language and clear instructions we make the process of setting up your compliance program as straightforward as possible.
Check List for Driver and Maintenance Files to be sure you are compliant. These DOT compliance checklists make the process simple for you to comply with DOT rules and regulations.
Policies included. If you adopt the recommended policies, you are halfway home. Follow the ​DOT audit checklist; establish and follow the policies; and you will pass your DOT safety audit with flying colors.
Still Not Convinced To Buy? Watch This Short 1 Minute Video On Why We Have Many Satisfied Customers
DOT Compliance Kit Table Of Contents - Includes Over 50 Pages!
[TABLE OF CONTENTS]
New Entrant Safety Audit Information

Certificate of Compliance Statement

DOT Accident Register (Sample)

Orientation Program Checklist

Driver Qualification File Checklist

Commercial Driver Application

Safety Performance History Records Request

Motor Vehicle Driver's Certificate of Violations

Medical Examiner Report

Medical Examiner Certificate

Safety Handbook (Sample)

Federal Motor Carrier Safety Regulations Guides

DVIR Guidance

Driver Qualification File Record Retention Requirements

Vehicle Maintenance File Checklist

Vehicle Maintenance File Record Retention Requirements

Driver Violation Disciplinary Policy (Sample)

Roadside Inspection Driver Disciplinary Policy (Sample)

Unauthorized Passenger Policy (Sample)

Drug and Alcohol Policy (Sample)

Seatbelt Usage Policy (Sample)

Drug and Alcohol Brochure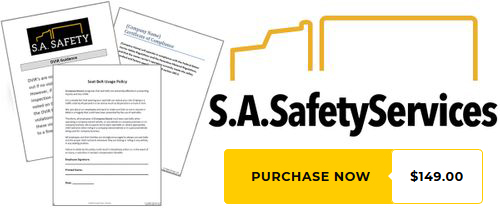 S.A. Safety Services also offers DOT compliance services to assist you with ​FMCSA safety audits. An FMCSA audit checklist is helpful with ​DOT safety audit requirements.