Annual Inspection Training for Trucking Companies and Outside Vendors
Our D.O.T. compliant kit offers a comprehensive Annual Inspection Training Course designed for mechanics, shop managers, and safety managers. This course is perfect for carriers that perform their own in-house annual inspections as well as independent repair facilities that provide this service to motor carriers. There is a flat rate charged for this training regardless of the class size that makes if very affordable for any size carrier or garage facility.
Contract Safety Services
Many carriers like to set up quarterly visits with their consultants, as this is a simple way of staying up-to-date and ensuring that everything will continue to run as smoothly as possible. As a client, you will be automatically placed on an e-mail distribution list to notify you of regulatory updates as they happen, and you will also receive notices on important events happening within the industry.
Driver Safety Meetings
Our D.O.T Compliance Kit can assist your company with safety meeting presentations.
Topics Include:
CSA
The Safety Measurement System
Hours of Service
Pre- and Post-Trip Inspections
Driver Health
How to Survive a DOT Roadside Inspection
No group is too small or too large. We use a different approach than most presenters or speakers. We speak directly to your drivers and employees without the use of films or PowerPoint presentations. This method is much better received by the audience and encourages them to participate more. We charge a flat rate for all safety meetings, regardless of the class size or time on-site, making it very affordable for all sized carriers.
Loss Prevention
Loss Prevention is an essential part of any trucking company's safety program. Insure My Rig has the experience to assist your company with developing a solid Loss Prevention Program. We can complete an analysis of your existing policies and procedures or create them for you altogether. Additionally, we can review your driver handbook or assist you in developing one. We can also perform a complete Accident Analysis of your current/previous losses to determine the root causes, which is a critical part of Loss Prevention rarely completed by carriers. We also provide assistance with Insurance Loss Prevention audits when needed.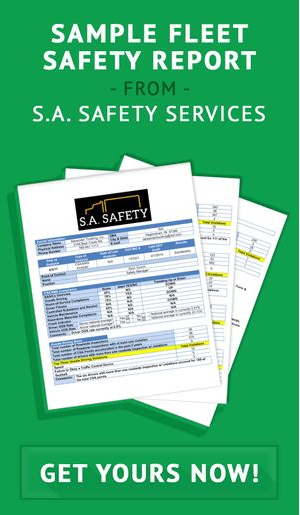 Safety Measurement System (CSA / SMS) Evaluation
Available to run reports nationwide. We can help you no matter what state you're in.
The data contained within the CSA/SMS can affect your operation in many ways. Increased insurance rates, increased odds of having a DOT audit or intervention, and poor media exposure - just to name a few. Taking time out of your busy schedules to evaluate this data can be daunting. Use our compliance kit to save you time and money.
What you will receive:
Detailed 4 page report PLUS safety summary and recommendations
Observations and analysis of all 7 categories within the CSA/SMS (if applicable)
Identity of drivers negatively impacting your scores
Top three violations in each category
Easy to Start:
All you need to do is provide us with your FMCSA Pin# and a valid e-mail address and we will take care of the rest.
Quick Turnaround:
Typically within 48 hrs you will receive all of the items listed above in an e-mail and you will be well on your way to improving your scores moving forward. Turnaround time may be a little more for larger carriers.
Mock DOT Audits
Vehicle inspections aren't just good sense – they are required. Drivers need to know what to check for and how to identify defects, who to report a problem to, and how and when to submit the required documentation.
DOT COMPLIANCE MOCK AUDIT INFORMATION
Call to Schedule Your On-Site DOT Audit Today:
Provides the checks and balances to insure audit compliance
Prepares drivers for both focused and comprehensive audits
Review Driver Qualification files
Review Vehicle Maintenance files
Review CSA/SMS Scores
Full summary report including recommendations
You Can't Fix What You Don't Know Is Broken
Regulators are under increasing pressure to assure compliance and knowing what to expect from your next DOT vehicle inspection is more critical than ever. Continuing the safe, compliant and cost-effective operation of your vehicle or fleet is an imperative no one in the industry can ignore and being ready to successfully weather an audit from the DOT these days increasingly requires a comprehensive and proactive approach.
Although the way you collect data and document safety metrics are likely providing "adequate" information to assure compliance, it may not be enough. SOPs and recording systems have limits to their effectiveness over time and may not be performing the way they can or should to ensure compliance and ultimately the safety of you, other drivers, and the vehicles you operate. The goal here is to gain a clearer picture of your compliance and audit "profile" and provide you the assistance you need to be more than prepared for the inevitable day the DOT walks up to take a close look at your rig.
Equip Yourself With Decades Of Insight
SA Safety Services Mock DOT Audit Review offering provides the checks and balances needed to insure you ace your DOT inspections every time, prepared for either a comprehensive or focused DOT audit when the time comes. Equipped with insight from decades of aligning safety and compliance with cost control and cost-effective vehicle operations, our experts carefully review your technology, procedures, processes and experience to highlight what's working and what might work harder to help make your next DOT inspection more positive and productive, less reactive and ultimately more routine and successful.
SA Safety Services Mock DOT Audit Review provides a focused, custom consultancy designed to familiarize you with the DOT Audit Checklist, identify the best practices you need to create better DOT audit outcomes. All filings are reviewed; including Driver Qualification and Vehicle Maintenance files as well as your CSA/SMS Scores. Our analyses then works to identify gaps and any other issues that may impact compliance or compromise safety.
Our review and its insights are presented in a Summary Report that highlights the strengths and weaknesses associated with your particular audit preparedness as well as all recommended corrections and proposed enhancements to insure the best DOT audit outcomes and compliance track record.
Phone Consultations
Are you concerned about the cost of DOT Consultant? Phone Consultations are another option we offer, especially for those concerned with travel expenses and initial consulting costs. This is also an excellent option for those carriers located outside of the Midwestern part of the U.S.
ON-CALL, ON-DEMAND TRANSPORTATION AND TRUCKING SAFETY CONSULTANCY
Timely, Practical Trucking Safety and Compliance Counseling – Call Today!
Focused, compact review of safety scores
CSA/SMS score analysis and reduction
Focused regulatory question review and support
Affordable alternative to face-to-face meetings, travel
Full summary report including recommendations
Effective trucking vehicle regulatory compliance has many drivers and one of them is cost. Staying ahead of regulators can be a full-time job, but putting an expert on the team is an ongoing cost few companies can bear. For many small to mid-size firms there are few choices; but with the price of hiring expert opinion high and getting higher, lifting your compliance game cost effectively can be tough when budgets don't have room to bring consultants on site.
To help overcome the cost issues and create pathway to expert compliance support, we offer compliance consulting services and advice over the phone. The "virtual" consultancy is designed to be the convenient "go-to" fleet managers and operations leadership need sustaining effective compliance programs and ongoing response to regulators.
Not all issues come from the macro level and often there is a particular sore point that to fix it all is required is a focused call with our expert to help clear up. SA Safety Services Phone Consultation is an affordable option worth considering. Our phone consultation clients can access individual phone consultations for set price, including review and reduction of CSA/CMS scores, preliminary Loss Prevention guidance, new or existing regulation and compliance strategy and more.
The dialogue, findings and recommendations from each phone consultation session is captured and returned in the form of a comprehensive report ready for business and compliance planning. Expert compliance support is now only a convenient affordable phone call away.
Public Speaking
Looking for someone to speak at your next meeting? Look no further! With nearly 30 years of experience as a Motor Carrier Inspector with the Indiana State Police, as a Safety and Compliance Specialist with a major trucking company, and as a Loss Prevention Specialist with a major insurance provider to the transportation industry, and cover nearly any necessary topic. We have spoken at many events and hundreds of safety meetings. Contact us for more details.
SPEAKING OF SAFETY
An Industry Voice Worth Listening To
Current, relatable topics relevant to your event, your audience
Engaging expert insight, direct, no-nonsense dialogue
Extensive experience offers clear insights, institutional wisdom
Fixed speaking rates
Safety: First, Last And Always
Is putting truck safety and regulatory compliance leadership a front and center priority for your organization?
Need a dynamic speaker ready to engage your company, professional association or customer group and address the real issues associated with truck safety and regulatory compliance? Along with nearly 30 years of experience as a Motor Carrier Inspector for the Indiana State Police, tenure as a Safety and Compliance Specialist with a major trucking company and a Loss Prevention Specialist with a major transportation industry insurance provider, Shawn brings to bear his wit and insight to help get his and your message across.
Insight And Experience Your Organization Needs To Hear
Shawn has brought his expert insight and broad industry knowledge to thousands, speaking to some of the industry's most important leaders and prominent events. His presentations have also been seen as an effective as a management tool for decades, advice made all the more valuable from the countless safety meetings he's led throughout his professional career.
There's more to truck and fleet operations compliance and safety than meets the eye, or in the employee manual – engage Shawn and see for yourself why he's become the industry's leading authority on safety.