Truckers Insurance for Truckers Like Ernest
"The rates are fair and service is excellent!"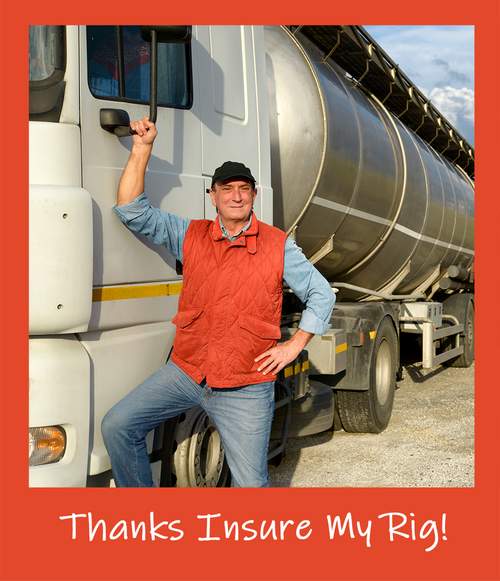 Three hours into his overnight run and the coffee in his mug was the temperature of dishwater. Feeling lonesome for some conversation but the old lady is asleep in the sleeper. Eyes starting to feel a little dry and stomach feeling a little bit empty. Nothing out of the ordinary when you're rolling down the road in a big rig. Just another day in the life of a long-haul trucker. That is until Ernest Jenkins, an over the road truck driver from Modesto California, realized his truckers physical damage collision insurance policy was going to expire the following day. "I knew I was forgetting something" He told Kimberly Lauderdale of InsureMyRig when she called him first thing the next morning in response to the email he'd sent her from the truck stop on route xxx halfway to vvv.
"We'll get your trucking insurance safely renewed and you'll be rolling before you know it" She told him. The commercial trucking insurance specialists at Insure My Rig deliver solid commercial truck insurance coverage quickly and professionally for truckers all across the country.
Jenkins experience is not atypical. And he has come to expect quick service from the friendly professionals at Insure My Rig. Whether he has a question about payment, or needs a certificate of insurance in a hurry he gets what he needs and he gets it right the first time. The semi truck rates are fair the service is excellent and they answer all my questions. They make me feel like I'm the only customer they have and I really appreciate that - I tell all the other drivers they are fools to call anybody else. I've had owner operator insurance from a few different transportation insurance agents over the years and nobody can hold a candle to Insure My Rig. They are the best in the business. When I think about how much I have riding on it I know my insurance policy better be right. If I got the wrong coverage or a company that wants that up for me when I need them I could lose everything. I sleep better at night knowing that Insure My Rig has got me and my truck covered.