Now THAT'S what we call Customer Service!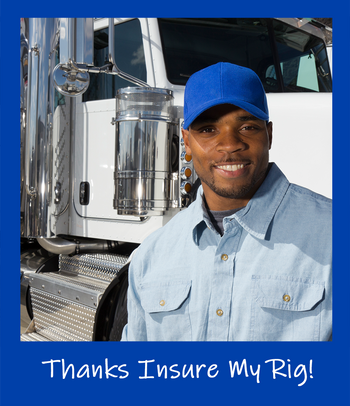 Earlier this spring, here at Insure My Rig, we had a situation with one of our truckers where he was getting some bad information from a competing agent about one of our insurance companies. Now you might know that we are an insurance agency that writes insurance policies exclusively for truckers. Mostly truckers who operate heavy duty semi-trucks. Whether they are an owner operator or a fleet owner, we are able to provide the insurance they need, be it liability, cargo, bobtail, occupational accident – you name it. If a trucker needs insurance, we can help.
So as you can understand when we have a situation like this where our trucker does not know who to believe, it's a rather delicate situation. Because, no matter what you say to your prospective customer you will sound self-serving and we don't ever like to say anything bad about other agents who also sell trucking insurance. We just don't think it's professional or classy, so we always avoid these types of situations wherever possible. Well, our trucker, let's call him DJ, he really needed to get the right information about a motor truck cargo insurance policy so he could make a good business decision for his small trucking company. He owns a a 2016 Kenworth tractor and a ten-year-old (practically brand new!) 53-foot dry van trailer. He lives in Illinois, and he usually prefers to run east of the Rocky Mountains (and he really tries to avoid the congestion of the eastern seaboard.) We were pondering how to give him correct info which would be contrary to what he was hearing from the other truck insurance agent and we thought: why don't we call up an underwriter and see if they would talk directly to him and answer his questions about motor truck cargo insurance. And that's just what we did.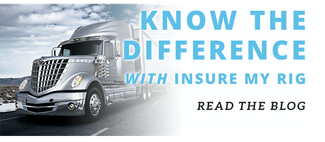 We gave a call to one of our friendly underwriters (who is very knowledgeable about this particular coverage area) and -without naming names- described the situation. We asked her if she would be able to speak with our trucker friend DJ and give him correct information that we knew would reflect well on us. As it happened, our underwriter was more than happy to help. I suppose nobody likes it when they know there are people out in the business world bending the truth to try to get an unfair business advantage.
So DJ called our friendly underwriter the underwriter was a straight shooter - gave him the correct and accurate information he needed to make his best decision. And, happily, his decision was to purchase his motor truck cargo insurance from Insure My Rig. And you know why he did? Because we know the difference between a fifth wheel and a steering wheel. Insure my Rig, We Know the Difference!
Call or email InsureMyRig today with your questions about trucking insurance.
Whether you are an Owner-Operator, or a fleet owner of any size from 1-1,000. Give us a call. We know the difference between a fifth wheel and a steering wheel.